Configure payment conditions
Payment conditions are the payment methods that are displayed on the website for the checkout. They allow the configuration of fees, interests, special conditions, etc.
After you have created your affiliation with MercadoPagoV2, you must configure the payment conditions that will be offered to buyers.
The configuration of payment conditions is done in the Payment conditions tab of the Settings menu in the Payments module in the VTEX platform administrator portal. In this tab, you must click on the "+" button (Add new payment condition for ...) and select on eof the following payment conditions:
Credit Card: this refers to credit card transactions carried out on your store's website. This setup requires you to select each credit card brand that you want in your store. Click here to see a list of available credit card brands. In addition, depending on the payment terms you select (Cash or Installments), your configuration may require you to fill in additional fields. For more information on how to configure installments in VTEX, click here.

Debit card: this referers to debit card transactions.

Other: this refers to transactions with MercadoPagoOff, MercadoPagoWallet, or MercadoPagoPro.

If you configure MercadoPagoPro, the buyer will make the payment in the Mercado Pago environment, via a form presented directly in their store and will have access to all payment methods available on the platform.

If you configure MercadoPagoWallet, the buyer will use their Mercado Pago wallet. This mode is exclusive to buyers registered in Mercado Pago or Mercado Libre and we suggest using it if you select Credit Card Payment Condition.

If you configure MercadoPagoOff, you can use means of payment in cash.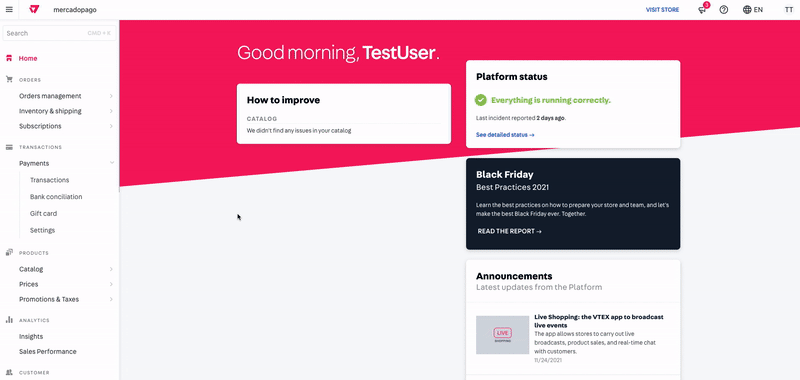 On the following screen:
Write the Rule Name. You can write a name of your choice to easily identify it.
Select MercadoPagoV2 from the list offered by the Process with affiliation field.
Activate the payment condition from the Status field. This must be activated for your selection in the Process with affiliation field to work.
Save your changes by clicking on Save.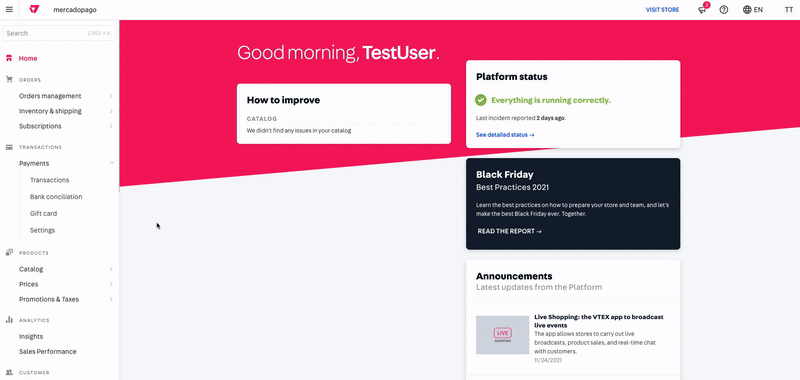 For more information on how to configure payment terms in VTEX, click here.